In Memory
Joseph Koenig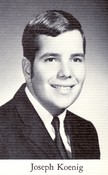 Joseph M. Koenig, 67 died Saturday, June 29, 2019 at Central State Medical Center in Freehold. He was known to his family and friends as "Joey". He was born in Lakewood, a son of the late Abe and Grace Koenig. Joey was a graduate of Lakewood High School, class of 1970 and graduated Monmouth College with a degree in Elementary Education in 1974 . He also received a Masters in Educational Administration from Monmouth College. Joey spent his whole career in the Lakewood School System. He began as an elementary school teacher and later became the basic skills teacher for his school. Joey loved being a teacher. Even after he retired he would go back to mentor and advise new teachers in the Lakewood School District, encouraging and guiding them as they began their careers in education.

In addition to his parents he was pre deceased by his wife Judith "Judy" (Shoner). They met when both were students at Monmouth College. Joey is survived by his two beloved sons, Ian, and his sister Faye Canape.

Private services were held at the convenience of the family. The Koenig household always had a shelter rescue dog residing in it, often more than one. For those so desiring a donation in Joey's memory to your local animal shelter would be appreciated.